Vita-A-Kombi 3
Vita-A-Kombi 3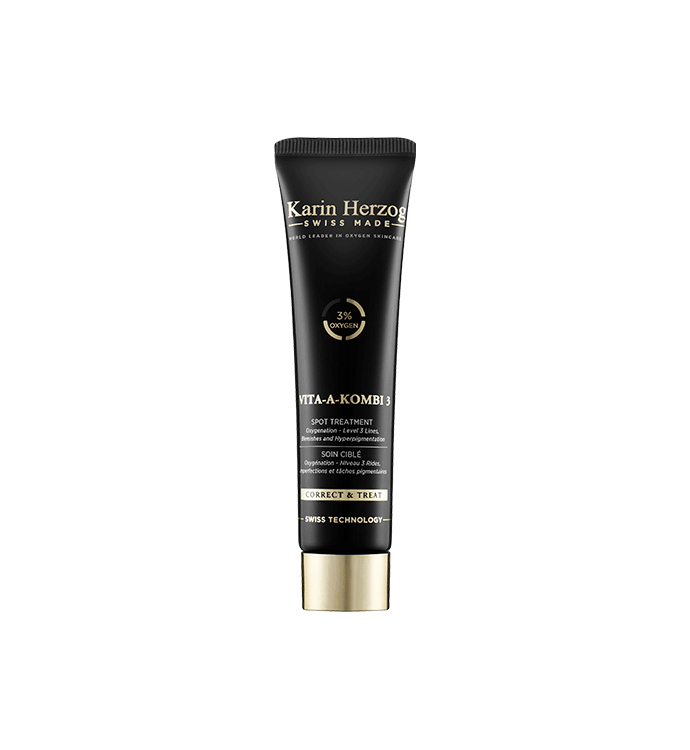 09/15/2023 - 01:00

to

09/17/2023 - 23:45
09/19/2023 - 01:00

to

09/22/2023 - 23:45
With 3% active oxygen and vitamin e & a (retinol), this cream works to hydrate and destroy bacteria to treat localized breakouts and stimulate the skin's ability to heal and repair itself.
Skin Type: For spot treatment of acne, blemishes, and hyperpigmentation.
Benefits
• Locally treats blemishes, spots and breakouts
• Fights hyperpigmentation
• Detoxifying and antiseptic properties
• Helps cell regeneration and natural recovery mechanisms
How to use
Apply a thin layer on targeted areas as a local spot treatment using a brush. Do not massage in. Use two to three times a day to treat targeted breakouts.
Ingredients
Aqua, Olus oil (and) Hydrogenated Vegetable oil (and) Candelilla Cera, Glyceryl stearate, Paraffinum liquidum, Tocopheryl acetate, Hydrogen peroxide 3%, Polysorbate 80, Stearyl alcohol, Cetyl alcohol, Retinyl palmitate, Salicylic acid, Tocopherol.